Aged 17, Stuart began his training at Easystreet Studios in London's East End. Polygram records used Easystreet studios to record demos for artists that they were interested in signing. Established artists took up the role of producer to work with the then unknown acts.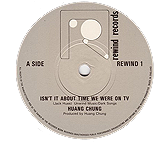 At nineteen, he engineered two singles for Huang Chung. This led to them being signed to Arista records, then, renamed as "Wang Chung," to Geffen Records.
In 1979, he joined Ezee Hire backline rentals and rehearsal rooms where he saw first-hand the live workings of some of the industries' biggest names, including Led Zeppelin. A year later, he moved to John Henry Enterprises, where he ran the recording studio and worked the soundstage facilities. artists that came through JHE during this period-included Marvin Gaye, John Martyn, Chris Rea and Asia.
In 1981 Stuart made the decision to return to Easystreet Studios, which was fast becoming one of England's premier reggae studios. During this period he worked with Sly and Robbie, Jimmy Cliff, Sugar Minot, Alton Ellis, Lee Perry, Ranking Dread, Trevor Walters and Tapper Zukie.
Engineering Dub mixes would give him invaluable experience for mixing the 12-inch dance mixes he would later be doing for major artists. At around the same time, Easystreet established a P.A. rental company, giving him the opportunity to work in live situations, something he found helped increase his efficiency in the studio.
In 1982, Stuart applied for an opening as assistant engineer at George Martin's AIR studios at Oxford Circus in London's West End, he landed the job, and soon found himself working alongside the likes of Paul McCartney, Mick Jagger, Phil Collins, Bryan Ferry, Gary Moore, Yes, Esquire, Jimmy Ruffin, Scritti Politti with Miles Davis , The Art of Noise, Tears For Fears, Dali's Car, Lord Andrew Lloyd Webber, Brilliant, Big Country, Nils Lofgren and Steve Harley, as well as some of the world's top producers and engineers, including Sir George Martin, Arif Mardin, Chris Hughes, Jon Kelly, Steve Churchyard, Paul Staveley O'Duffy and Chris Lord Alge.
One day at AIR, he was asked to work alongside someone who was to become his close friend and mentor: legendary engineer Geoff Emerick. That day's work saw him transferring original Beatles master tapes to 24-track tape which Geoff would then mix for a CD called "Sessions" - a CD of Beatles outtakes which was to become the forerunner of the Beatles "Anthology." Stuart soon moved from assisting Geoff to taking up the role of engineer on projects that Emerick was producing.
It was during the mixing of a film score by "Big Country" that Art Garfunkel and Jimmy Webb approached Emerick to finish a project called "The Animal's Christmas" and Emerick once again asked Stuart to assist him. The project was completed at AIR Studios in Montserrat, and marked the start of a longtime professional relationship between Stuart and Art Garfunkel.
Art Garfunkel's "Lefty" album was recorded and mixed in New York City in 1986, with Emerick producing and Stuart engineering. Notable session musicians on that album include Steve Gadd, Michael Brecker, Jeremy Steig and Nicky Hopkins.
In 1988, Stuart left AIR to go freelance, continuing to work closely with Art Garfunkel, for whom he still serves as live Front-Of-House sound engineer and Production Manager. He has also recorded six CDs with the singer, including "Garfunkel," "Up Till Now" the Grammy nominated "Songs From a Parent to a Child" on which apart from engineering, he also makes a cameo appearance on guitar and the award winning "Across America" which he co-produced with Garfunkel.
Other projects Stuart produced in his early freelance days include the original cast recording for "Cyrano De Musical", a Dutch based musical that went on to open on Broadway in NYC, Greek artist Elli Paspala's crossover CD "Living a Lie, and Dee Carstensen's live CD "Home Away From Home", which Stuart co-produced with Dee and her husband Mike Mainieri.
The later part of the 80's saw Stuart continuing to divide his time between live and studio work, mixing shows for Garfunkel in Japan as well as a tour of the UK.
Studio work would take him to Italy with Rossana Casale, Greece with Demis Roussos, Holland with Rob De Nijs and Benny Neyman and of course the UK, with studio projects for artists including Nick Kamen and Gail Ann Dorsey.
At the start of the 90's Stuart toured extensively with Art Garfunkel in Europe, Japan and the USA, Stuart's personal highlight from this period was mixing for the first time at Carnegie Hall in New York City.
1994 saw him working as one of the house engineers at The House Of Blues club in Los Angeles, working with artists such as Ray Charles, Junior Walker And The All Stars, Carly Simon, Tom Jones, and Mike And The Mechanics.
The dawn of the new millennium saw Stuart handling the less than easy task of putting together a production package and mixing an Art Garfunkel show on January 1st 2000 onboard a ship cruising in Antarctica.
In 2003 Stuart's talents were called upon when he was asked act as sound consultant for Simon and Garfunkel's 2004 "Old Friends" reunion tour. It had been many years since Art and Paul had performed together and their personal monitoring requirements were almost polar opposites. Stuart drew on his years of experience and once again placed the "and" back in Simon and Garfunkel. Art showed his appreciation of this by personally thanking Stuart in the credits of "Old Friends Live on Stage".
2004 saw Stuart returned to the studio to once again work alongside Geoff Emerick, recording Nellie McKay's critically acclaimed debut album "Get Away From Me" For Sony Records.
During 2008 Stuart was asked to become part of the production team for The Clinton Global Initiative annual meeting in NYC. Something that he proudly continues to be a part of to date.
2009 saw Stuart in the studio co-producing and mixing "Cheap Seats" for The Trapps. The CD charted on various charts and prompted the following review from "Rolling Stone Magazine's Executive Editor Jason Fine.

"Elegant yet raw, darkly emotional but also shot through with light, The Trapps new disc is full of surprising contrasts and casual beauty -- rangy, experimental roots-rock played with confidence and hope."
He also found time in 2009 to work as Production Manager and FOH Engineer for "Playing For Change" during their highly successful first tour of the USA and Europe, the tour also produced a live CD and DVD.
In 2010 Stuart multi-tasked a US tour with Australian artist Kate Miller-Heidke as she opened for Bare Naked Ladies former front man Steven Page. He also multi-tasked a tour of The Czech Republic and Poland with Donna Lewis. 2010 also included stints at The Bearsville Theater working with artists including The Psychedelic Furs, Blondie, Ronnie Spector, Leon Russell, Dweezil Zappa and Al Kooper to name but a few.
2011-2013 found Stuart working as a Freelance Engineer at The Rockefeller Center in New York as part of the audio crew for NBC's "Toyota Concert Series" Live From The Plaza, this included taking care of FOH for "Journey" and "One Direction" during their visits to The Today Show. Stuart also worked freelance on various corporate events for PRG, amongst the clientele were Bloomberg L.P. and NBC.
Mid 2013 Stuart received a call from Art Garfunkel who had been suffering from long-term vocal problems, asking if Stuart would help him overcome these problems and enable him to return to performing once again. Stuart took to the task and the period from February 2013 to October 2014 saw Art Garfunkel going from being unable to sing a note to performing over 100 shows.
In an interview with "Rolling Stone" magazine Garfunkel said this of the experience "Stuart Breed, my right-hand man and engineer, was a godsend. He worked with me ever so sensitively to bring my voice back"
Garfunkel's return to the stage was endorsed by a glowing review in The Telegraph Newspaper of his concert at The Royal Festival Hall in London in September 2014. "Joyously, there it was: that famous soaring voice, somehow both delicate and rich, filling the auditorium with April Come She Will and then The Boxer."
"The sound, looked after by Garfunkel's long-time engineer Stuart Breed, was as good as I've ever heard at an acoustic gig: clear, balanced, catching every nuance of brilliant guitar work, bringing every vocal note to the fore."